ABV
48%
Region
Speyside
Bottling
Distillery
 
Cask type

American Oak Casks, Port Wood Finish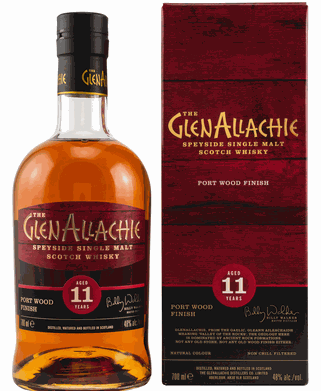 Nose
The nose starts off with ripe red fruits, creamy fruit compote with plums, followed by vanilla, a sweet spice and dark chocolate in the background.
Palate
Sweet and powerful on the palate with a mix of red fruits: cherries, plums and berries. Warming spicy notes with delicate dark chocolate towards the finish.
Finish
The finish is long lasting and creamy with sticky red fruit jam. It dries out towards the end with fine cocoa.
With water
Fresher and tingly on the nose after adding a few drops of water. The wonderful red fruit aromas are accompanied by considerably more dark chocolate. Beery, creamy and fruity on the palate with a restrained spiciness. Here too, there are clearly more chocolaty notes. The finish is slightly shorter with lots of dark chocolate and dry notes of espresso.
Comments
A luscious, fruity single malt with delicate chocolate notes. The port wine casks gave this whisky, in addition to its great ruby red colour, nice red fruit aromas, accompanied by sweet spices and lots of dark chocolate. These chocolate notes increase considerably more after adding water. A liquid dessert after a good meal.
I thank Kirsch Import e.K. for the complimentary sample and the photograph!