ABV
65.3%
Region
Highlands
Bottling
whic (Whiskycircle)
 
Cask type

Sherry Cask (218 btl.)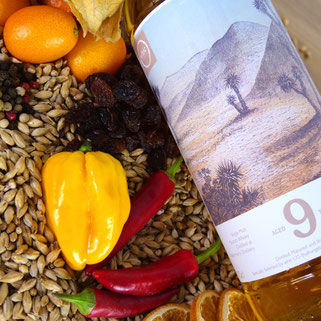 Nose
A restrained start. With time, notes of sherry and toffee arrive, followed by red apples and ripe peach. Honey with floral notes emerge, followed by nutmeg and cinnamon. Mineral and somewhat earthy towards the end.
Palate
Very strong on the palate and intensely warming. Here one clearly feels the 65% alcohol with peppery spiciness. Has a very dry and astringent effect. After this first shock for the taste buds, some fruity sweetness comes through, accompanied by dark chocolate, espresso notes and tobacco leaves.
Finish
The warming finish is long lasting, becoming slightly salty with increasingly bitter notes of unripe walnut and oak.
With water
After adding a splash of water, the nose reveals significantly more fruity aromas. Peach, honey and also more floral notes can be detected. In the background some oak spice and nutmeg. On the palate sweet and creamy, also a bit prickling, with honey, cinnamon, raisin and some pepper. Pleasantly warming and clearly tamed in the alcoholic spiciness. The finish is still long with honey, malt sugar and creamy fruit, without unpleasant bitter notes.
Comments
This young Tobermory is a real beast, which has to be tamed with water. Far too strong for me. The alcoholic pungency overwhelms the taste buds and suppresses the fruity aromas. So it can take a lot of water. Then you notice wonderfully fruity and sweet, creamy aromas, which are kept in beautiful balance by a pleasantly warming spiciness.
I thank whic (Whiskycircle) for the complimentary sample and the image!