ABV
56.5%
Region
Highlands
Bottling
whic (Whiskycircle)
 
Cask type

Sherry Cask Finish (186 btl.)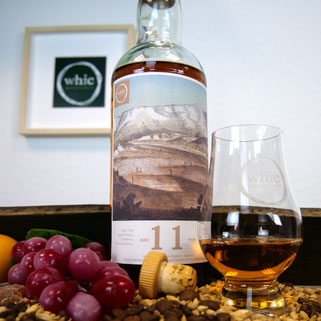 Nose
Fresh on the nose with a little salty sea air. Then sherry aromas spread with dates, brown sugar, cinnamon and nutmeg. In the background, nougat with some oak spice resonates. The alcohol is well integrated and not pungent at all.
Palate
Bold start on the palate. Here the high alcohol content of this cask strength bottling becomes noticeable. Slightly maritime with a peppery note, followed by a gradual sweetness with dates, cinnamon, a little dark chocolate and roasted aromas of dark bread towards the finish.
Finish
The warming finish shows a medium length with creamy fruit notes, nutmeg, subtle white pepper and a touch of dry oak.
With water
Much more fruity on the nose after adding a few drops of water. Peach with aniseed and some cinnamon. Again very fresh and slightly maritime. On the palate also fruity and prickling with dates, milk chocolate and warming spices. The finish remains medium length with creamy fruit notes, brown sugar, dark chocolate and a hint of dry oak.
Comments
A really tasty and exciting Old Pulteney. The maritime distillery character is beautifully preserved despite the finishing in sherry casks forming a nice counterpoint to the sweet-fruity, chocolaty and spicy aromas from the wood. By adding water the Old Pulteney opens up and brings out more fruit aromas.
I thank whic (Whiskycircle) for the complimentary sample and the image!