ABV
46%
Region
Speyside
Bottling
Douglas Laing
 
Cask type

Ex-Sherry Cask (361 btl.)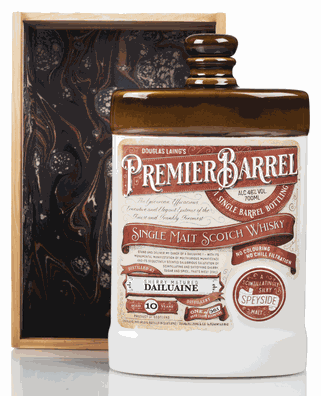 Nose
Sweet on the nose with honey and ripe fruits like peach, red apple and banana. This is accompanied by creamy vanilla and candyfloss. In the background discreet spicy notes of oak and cinnamon. Very captivating.
Palate
Just as sweet and fruity on the palate with peach, pineapple and banana. Warming spices spread with notes of cinnamon, oak and some ginger, lingering with creamy honey and vanilla towards the finish.
Finish
The finish shows a beautiful length with warming and creamy notes of vanilla, oak spice, slightly bitter orange peel, passion fruit and a touch of grapefruit.
With water
After adding a few drops of water, even more tropical fruit aromas appear on the nose, paired with vanilla, some oak and ginger spice. On the palate very sweet with vanilla, creamy notes of tropical fruit and a hint of slightly warming spices. The finish is still long lasting, slightly warming with additional milk chocolate and a touch of hazelnut.
Comments
An intoxicatingly fruity and wonderfully sweet dram in beautiful balance with pleasantly warming spices. This is how beautiful single malt from the Speyside can taste, which has matured in a sherry cask for only a decade. The ceramic bottle is a very special eye-catcher, too.
I thank Douglas Laing for the photograph!