ABV
59.8%
Region
Germany
Bottling
Sauerlaender Edelbrennerei
 
Cask type

Tuscan Red Wine Casks, ex-Bourbon Casks (1,000 btl.)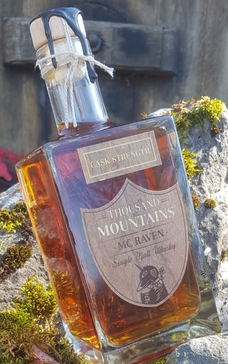 Nose
A powerful start on the nose. The high content of almost 60% abv is immediately noticeable, but not unpleasant at all. There are red fruit aromas such as blackberry and cherry, followed by raisins and sweet caramel notes. Vanilla is clearly detectable, followed by notes of sweet barley malt and a touch of oak.
Palate
A strong start also on the palate with a beautiful sweetness of caramel, fruity berries and delicate red wine aromas. Then comes the high alcohol content, with the whisky becoming more spicy with oak wood and an alcoholic spiciness accompanied by white pepper. This spiciness increases with the second sip. Pleasantly warming and mouth filling.
Finish
The finish shows medium length, warming with subtle walnut and drying towards the end with some tannins and oak.
With water
After adding some drops of water, more vanilla and caramel notes appear, accompanied by considerably more oak wood. Overall, the nose is much more tamed. The taste is berry with creamy red wine notes, caramel and vanilla, followed by milk chocolate, hazelnut and tamed oak spice. Overall warming, but clearly less spicy. The finish is still of medium length with creamy caramel, nut aromas, milk chocolate and a hint of oak on the tail.
Comments
This single malt, still quite young at only three years of age, surprised me positively. The maturation in Tuscan red wine casks gave the Mc Raven beautiful berry fruit notes, which also benefits from sweet notes of vanilla and caramel presumably provided by the original Kentucky Bourbon barrels. The variety of aromas is multi-layered, and the high alcohol content leaves enough room for water. One should do so, because then even creamy notes of milk chocolate come into play. A young, German single malt that knows how to please.
I thank Sauerlaender Edelbrennerei for the complimentary sample and the photograph!