ABV
57.8%
Region
Germany
Bottling
Feingeist
 
Cask type

Four different Casks - Chestnut, Bourbon, Pinot Noir and Laphroaig Cask Finish (97 btl.)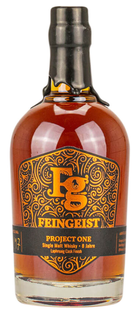 Nose
Dark fruit, like cherry and plum, accompanied by a sweetness of vanilla, caramel and brown sugar. Pleasantly warm on the nose with fine peat smoke and noticeable wood notes. The alcohol is well integrated and not at all pungent.
Palate
Noticeable peat smoke at the beginning on the palate, followed by a creamy and fruity sweetness of cherry and plum jam. Pleasantly warming with a slightly alcoholic spiciness, some pepper and ginger.
Finish
The finish shows a medium length with creamy fruit jam, roasted aromas, some cocoa and warming smoky notes.
With water
After the addition of a few drops of water, more smoke appears on the nose, as well as notes of ash, soot and bitumen. The wonderful fruitiness fades into the background. On the palate it is prickling and intense, with peat smoke, pepper and ginger spiciness. Here again less fruit. The finish is medium long, warm and dry with notes of wood, smoke, ash and some fruit sweetness.
Comments
A very interesting bottling of this unknown German distillery, which has found its perfection in a total of four different types of casks. A beautiful combination of dark fruit, sweetness and warming peat smoke. Bottled just right in my opinion with almost 58% abv. No water necessary. It is certainly also an ideal companion to a cigar.
I thank Feingeist GmbH for the complimentary sample and the photograph!