ABV
48%
Region
Speyside
Bottling
Douglas Laing
 
Cask type

Refill Hogshead (# DL13514, 285 btl.)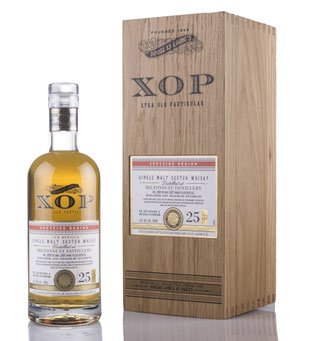 Nose
Very fruity on the nose with notes of peach, apricot, slightly tart rhubarb and vanilla ice cream. Accompanied by cereals mixed with honey and oak spice.
Palate
First sweet and fruity on the palate with peach and some banana. Becomes more spicy and warming with white pepper and oak, followed by vanilla ice cream, some malt biscuits and brown sugar.
Finish
The finish is long lasting with some rhubarb, peach, butterscotch and dry oak towards the end.
With water
After adding a few drops of water, this Miltonduff is much more lively and prickling on the nose with peppery notes, juicy peach and lots of vanilla. Again a lot of sweet fruit on the palate, vanilla, barley sugar and a slight ginger spiciness. The finish remains long, sticky sweet with peach and rhubarb, vanilla and more dry oak.
Comments
This fruity Speysider was distilled at Miltonduff in 1994 and bottled by Douglas Laing after a quarter of a century. This long aging period resulted in a delicate fruitiness and sweetness that is beautifully balanced with the oak spice of the hogshead. Although 48% abv would not necessarily require water, after adding a few drops, the sweetness and wonderful fruit aromas become even more apparent, but the dram becomes also drier towards the end. A pleasant whisky, with which one can spend a long time.
I thank Douglas Laing for the photograph!