ABV
47.4%
Region
Isle of Islay
Bottling
Distillery (The Ultimate)
 
Cask type

--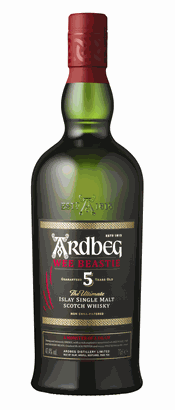 Nose
A sweet start on the nose, followed by meaty flavours, BBQ and a good deal of peat smoke. Herbal notes spread, along with pine resin, black pepper and warming wood fire. Over time, sweet again as well as fruity with orange oil and creamy vanilla.
Palate
Powerful start on the palate. Oily, then peppery and warming. Tar oil, aniseed and cloves dominate at first, before sweet notes of vanilla and milk chocolate appear. The sweetness fades away with fine peat smoke towards the finish.
Finish
The finish is medium long, oily, spicy and slightly warm with subtle notes of tar, peat, smoke, pepper and a little dry oak. Salty caramel has a pleasant aftertaste.
With water
By adding a few drops of water, this young Ardbeg becomes stronger and somehow more pungent on the nose with more peat smoke, but also a bit more vanilla sweetness. Prickling and slightly peppery on the palate. Less warming with a touch of peat smoke, but clearly more vanilla sweetness and orange fruit. The finish is of medium length, oily and a bit herbal with fine smoke and some tar oil.
Comments
A young, typical and really convincing Ardbeg. The "Wee Beastie" is amazingly round and harmonious despite its tender age.  Powerful, oily and creamy on the palate with a nice sequence of flavours typical of Islay as well as sweet and fruity accents. Really drinkable - even after adding a few drops of water: nothing dominates, nothing imposes itself. An all-day dram! 
I thank Moët Hennessy Germany for the complimentary sample and the image!