ABV
51.5%
Region
Lowlands
Bottling
Douglas Laing
 
Cask type

Refill Barrel (# DL13504, 183 btl.)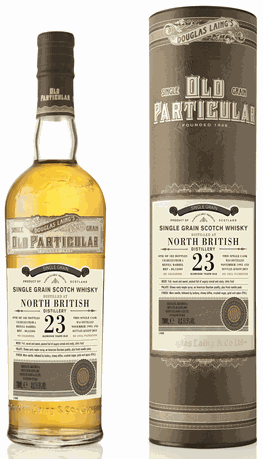 Nose
Buttery sweetness with vanilla, cereals and brown sugar. Behind it citrus fruits and slightly spicy with laurel and some floral notes. Multi-layered and nicely attractive.
Palate
Very sweet start on the palate with maple syrup and vanilla. Then warming with a light peppery note, a hint of oak and some ginger spiciness. Slightly herbaceous with heather and thyme, followed by sweet blossom honey and some toffee towards the finish.
Finish
Long lasting with creamy vanilla, a touch of toffee, sticky honey, some nutty aromas and dry notes of heather and oak towards the end.
With water
After adding a few drops of water, this single grain becomes spicier and tangier with aromas of vanilla, toffee and herbs, accompanied by distinct citrus fruits. Remains sweet on the palate with vanilla, toffee and hazelnut, accompanied by significantly more spices and notes of cough drops. The finish is a little shorter, creamy with vanilla, herbal notes and some dry oak.
Comments
This buttery single grain whisky from the North British distillery is definitely on the sweet side with a well integrated alcohol. It shows a nice balance of sweetness, spices and herbal aromas. The 23-year maturing period requires a good deal of air in the glass before the full variety of flavours of the grain comes into play. With or without the addition of water a delicious drinking pleasure.
I thank Douglas Laing for the photograph!