ABV
60.4%
Region
Isle of Islay
Bottling
whic (Whiskycircle)
 
Cask type

Dechar & Rechar Oak Cask (#HHD10688, 295 btl.)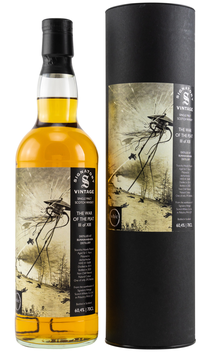 Nose
Delightful peat smoke, combined with a malty sweetness, vanilla and fruity aromas such as white peach and some lime. Some herbs, like sage and heather, mixed with cold ashes. The high alcohol content is hardly noticeable.
Palate
First a creamy sweetness of vanilla and burnt caramel, then strong, rich and properly warming with a distinct alcoholic spiciness. Some mint with salty coastal aromas and hazelnut notes. This is all wrapped in fine peat smoke.
Finish
The finish shows a medium length with some oak, roasted aromas, green hazelnut, cold smoke and dry ash.
With water
After the addition of a splash of water, this Bunnahabhain is much more present on the nose with an alcoholic bite, slightly less fruit sweetness but more "cowshed aromas". Prickling on the tongue with noticeably more smoke and peat. There, the warming alcoholic bite is clearly softened with fruit aromas and burnt caramel sweetness shining through. The finish is still of medium length and much drier with ash, cloves and cold peat smoke.
Comments
To me, this third bottling of "The War of the Peat" series is a very nice one. A young, tempestuous Bunnahabhain with a delicate mixture of fruit, smoke, peat and sweetness, without alcoholic pungency. It is both undiluted and with a few drops of water very nice to drink. Something strong in the present uncertain times.
I thank whic (Whiskycircle) for the complimentary sample and the image!