ABV
64.1%
Region
Speyside
Bottling
whic (Whiskycircle)
 
Cask type

Sherry Butt (#8701, 318 btl.)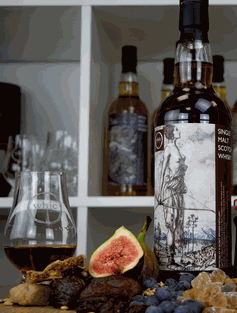 Nose
Intense scent of matured sherry, mixed with ripe oranges and figs. Notes of herbal lemonade, followed by cinnamon and other exotic spices, with tobacco leaves and leathery notes in the back.
Palate
Bold and rich on the palate. Sweet with raisins, figs, old sherry and juicy oranges. The oak clearly emerges, accompanied by cinnamon and warming spices as well as some herbal lemonade. Towards the finish, dry notes of tobacco, wood and leather emerge.
Finish
The finish is long-lasting, wonderfully warming and still mouthfilling. Becomes drier towards the end with oak, espresso notes and tobacco leaves.
With water
After adding a splash of water, the Speysider becomes more lively and prickling on the nose with more herbal lemonade, lots of sherry and sweet dried fruit. On the palate milder, but less sweet and much drier with oak, espresso and tobacco notes. The finish shows a medium length with again dry notes of oak and tobacco leaves.
Comments
A voluminous, wonderfully sherry cask matured single malt from the Speyside, which shows the full repertoire of fruit, spice and tobacco notes when talking about an intense sherry influence. Although bottled at high 64.1% abv, this unknown dram is wonderfully drinkable neat, yet comfortably warming, intense, sweet and fruity. With water, the dry aromas of oak, tobacco and espresso are clearly revealed. One can fully endorse the slogan of Whic: The best comes last!
I thank whic (Whiskycircle) for the complimentary sample and the image!