ABV
48.4%
Region
Highlands (Isle of Mull)
Bottling
Douglas Laing
 
Cask type

PX Sherry Butt (# DL13707, 352 btl.)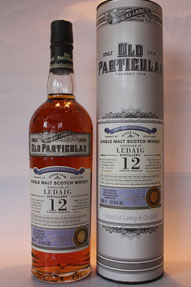 Nose
Starts with aromas of smoked bacon and leather, combined with a wonderful sherry sweetness, dark fruit and smoke. In the background cold, burnt wood and hints of oak spice. Great nose, it is fun to sniff it for a long time.
Palate
Full-bodied and voluminous on the palate! Wonderfully sweet with sherry and dark fruit, accompanied by fine smoke. A kind of greasy with roasted aromas, spicy acacia honey and a slightly phenolic note. Pleasantly warming.
Finish
The finish is long, warming and oily with some mint, fine smoke, bacon and sooty chimney air towards the end.
With water
After adding a few drops of water, the nose becomes slightly fresher with menthol, fine smoke and a distinct sherry sweetness. On the palate, however, the dram is less sweet, but more spicy with smoke, oak and some phenols, followed by subtle sweet caramel. The finish remains long with warming spices, smoke and spicy honey.
Comments
A wonderful Ledaig from a PX Sherry Butt. The smoky and spicy character of the Islander combines wonderfully with the sweet sherry aromas to a warming symphony of flavours. Sweet, spicy and smoky - this is the perfect way to enjoy the evening.