ABV
48.4%
Region
Speyside
Bottling
Douglas Laing
 
Cask type

Refill Wine Cask (# DL12757, 297 btl.)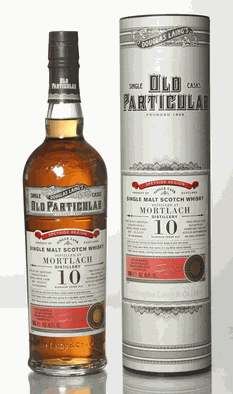 Nose
Sweet and fruity on the nose with red currants, creamy vanilla and barley sugar. Clearly spicy hints of oak, followed by honey and a touch of strawberry.
Palate
Equally sweet and fruity on the palate, immediately followed by warming spices - white pepper and oak. Then creamy sweetness of honey, vanilla and malt with a crunchy cereal note towards the finish.
Finish
The finish shows a medium length with fleshy notes, toasted bread, honey, brown sugar and finally some dry oak.
With water
After the addition of a few drops of water a little fresher on the nose with enhanced wine aromas and red berries. Spicy oak with lots of toffee in the background. On the palate noticeably less sweet with a distinct peppery spiciness and prickling oak. Honey with creamy toffee towards the finish. The finish is medium long with notes of honey, toffee and a bit more of dry oak.
Comments
An impressive independent bottling of Mortlach in a refill wine cask that seems to have tamed the beast of Dufftown. Creamy notes of honey and toffee together with aromas of red berries counteract the fleshy and spicy character of Mortlach and keep this single malt in beautiful balance. A successful Mortlach in perfect drinking strength.
I thank Douglas Laing for the photograph!