ABV
51.5%
Region
Lowlands
Bottling
Douglas Laing
 
Cask type

Refill Butt (# DL13324, 210 btl.)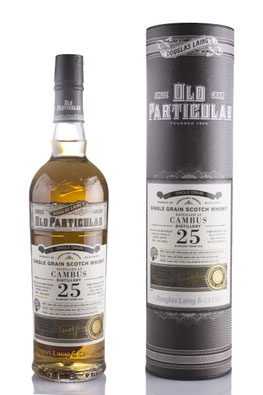 Nose
Fine toffee notes with vanilla pods and ripe banana. Accompanied by spicy oak, subtle ginger and slightly floral notes.
Palate
Surprisingly intense and powerful on the palate. First sweetness with vanilla and toffee, followed by a strong warming spiciness of oak and white pepper. Notes of burnt sugar with some creamy fruit jam and dry oak towards the finish.
Finish
A long lasting finish with aromas of starfruit and slightly warming spices.
With water
Fruity in the nose after adding a few drops of water with apricot, pear and yellow stone fruit. Vanilla with toffee and considerably less spices. Tamed sweetness and less spicy warmth on the palate with fruit jam and clearly dry oak. The finish is somewhat shorter with vanilla and some prickling oak spice on the tongue.
Comments
This Single Grain attracts attention with its sweet vanilla notes and ripe fruit aromas, which are kept in good balance by warming spices. The very subtle influence of the sherry butt fits quite well here and nestles perfectly to the distillery character. A delicious single cask bottling from the closed Cambus distillery in the Lowlands, which can be enjoyed perfectly neat.
I thank Douglas Laing for the photograph!