ABV
47.2%
Region
Islay
Bottling
Douglas Laing
 
Cask type

Cognac & Sherry Cask Finish (1,500 btl.)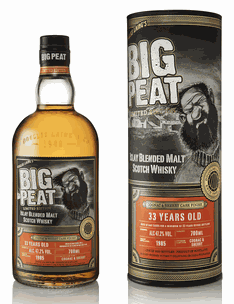 Nose
Fine bonfire smoke on the nose with a touch of peat and burnt caramel. Sweet vanilla paired with fruity hints of plums, oranges and other citrus fruits. In the background a whiff of oak with cold ash.
Palate
Powerful, full-bodied and sweet on the palate with creamy fruit notes, vanilla sweetness and slightly bitter Seville oranges. Wonderfully warming with some cracked black pepper, smoked bacon and discreet campfire smoke. Creamy towards the finish with a hint of bitter grape seeds.
Finish
The finish is of medium length, creamy and pleasantly warming with sweet vanilla notes and orange jam. Becomes drier towards the end with oak and soft peat.
With water
Somewhat fresh on the nose with citrus fruits. The addition of water pushes smoke and peat aromas into the background. On the palate less fruit sweetness, some vanilla with more spices, like pepper and cloves. Clearly more bitter with notes of grape seeds and oak. The finish is medium long, slightly prickling and warming but significantly dry with oak, ash and peat.
Comments
This is the oldest Big Peat to be bottled to date. It exudes an elegance and wonderful aroma, which is supported by subtle smoke and peat flavours. The finish in casks previously filled with French cognac and Spanish sherry gives this blended malt from Islay a further aroma level with creamy fruit notes and a light but pleasant bitterness. A whisky for which one should take a lot of time to enjoy and which it thanks with a complex aroma profile.
I thank Douglas Laing  for the complimentary sample and the photograph!