ABV
51.1%
Region
Speyside
Bottling
whic (Whiskycircle)
 
Cask type

Bourbon Hogshead (#5640, 261 btl.)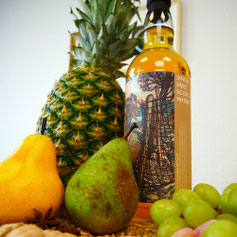 Nose
Buttery and sweet on the nose with vanilla and biscuits. Then a fruity sweetness arrives with apricots, pears and white grapes. Slightly sparkling with yellow lemonade and pineapple.
Palate
At first creamy sweet on the palate, then a warming spiciness spreads out with ginger and oak. Behind it a lot of vanilla emerges, accompanied by some pear fruit and fine icing sugar.
Finish
The finish is long-lasting with an almost sticky vanilla and fruit sweetness, followed by a touch of bitter almonds and some dry oak.
With water
The nose is much more lively by adding a few drops of water. Also spicier with oak and ginger, followed by some pear with vanilla. Less sweet but spicy on the palate with a clearly reserved alcoholic bite. Creamy vanilla with pear fruit and some oak. The finish is less sweet, but dry with oak and allspice.
Comments
A rich, full-bodied and lively Glen Moray from a ex-Bourbon cask where the alcohol is very well integrated on the palate. A beautiful interplay of yellow fruit, creamy vanilla and oak spice. The addition of water can confidently be avoided, otherwise the whisky becomes too dry.
I thank whic (Whiskycircle) for the complimentary sample and the image!