ABV
57.6%
Region
Lowlands
Bottling
whic (Whiskycircle)
 
Cask type

Sherry Cask (503 btl.)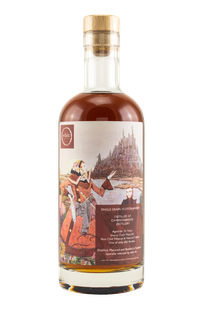 Nose
Begins sweet on the nose with apples, caramel and dried fruits, cherries as well as raisins and dates. The whole is embedded in beautiful old sherry aromas, with notes of dark chocolate, some leather and tobacco in the background. The alcohol is well integrated and not pungent at all.
Palate
Again a great sweetness on the palate with caramel and a sticky red fruit, accompanied by dried figs and raisins. Then warming with a light peppery spiciness, due to the high alcohol content. But not unpleasant. Cinnamon with dark chocolate and juicy cherry are noticeable until the finish.
Finish
The finish is long-lasting with a sticky fruit sweetness, dark chocolate and a hint of dry tobacco leaves. Very nice.
With water
The addition of water pushes the fruit a little into the background, while retaining its sticky sweetness. Dark chocolate in the background as well. Soft, sweet and round on the palate, the alcoholic spiciness is nicely tamed. Raisins, dates, sherry aromas, beautifully mixed with dark chocolate. Wonderful. The finish is still long with a sticky fruit sweetness, raisins and lots of dark chocolate.
Comments
A wonderfully sticky, sweet and fruity single grain whisky that has been allowed to mature in a sherry cask for a quarter of a century. Full of dried fruits and dark chocolate, with a strong dash of alcoholic spice. Both pure and diluted with some water a wonderful drinking pleasure. Not only, but especially in the cold season a wonderful soul warmer.
I thank whic (Whiskycircle) for the complimentary sample and the image!