ABV
45%
Region
Ontario/Canada
Bottling
Distillery
 
Cask type

Finished in Oloroso Sherry Casks (4,410 btl.)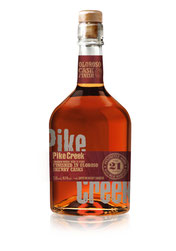 Nose
On the nose sweet notes of vanilla with toffee, followed by spicy rye, roasted bread and orange peel. Then light sherry aromas and dried fruits in harmony with spicy oak, aniseed and fine tobacco notes.
Palate
Sweet with a wave of caramel and vanilla, accompanied by spicy aromas of pepper, oak and nutmeg. A nice balance of sherry and dried fruit aromas, with a slightly bitter orange peel and spicy rye towards the finish.
Finish
A medium long finish with creamy toffee, warm peppery spices and dark chocolate. Very nice.
With water
By adding a few drops of water, buttery aromas come to the fore, accompanied by creamy toffee and butterscotch, with tamed notes of spicy rye. On the palate more sherry notes arrive but less sweetness, followed by spicy notes of oak and rye. The finish is medium long, chocolaty and dry with peppery oak.
Comments
I enjoyed the melange of the spicy sweet Canadian character with the aromas of the Oloroso sherry cask very much. This gives the Pike Creek even more depth and richness. The result is wonderfully sweet with creamy toffee, caramel and vanilla, beautifully balanced with dried fruit aromas and spicy rye notes. A delicate dram to sip and relax.
I thank BORCO-MARKEN-IMPORT for the complimentary sample and the photograph!