ABV
46.8%
Region
Highlands
Bottling
Douglas Laing
 
Cask type

-- (1,600 btl.)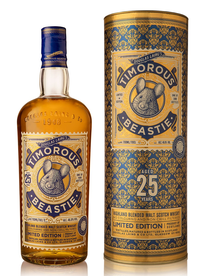 Nose
Enticingly fruity on the nose with loads of ripe pears and apricots, nicely mixed with lemon sorbet, vanilla and blossom honey. Then milk chocolate arrives, followed by hazelnut, subtle ginger spice and oak in the back.
Palate
Sweet, fruity and creamy on the palate with pears, honey and apricots, followed by a warming mix of ginger, oak spice and white pepper. Once the warming spiciness fades, creamy and sticky fruit jam remains nicely on the tongue.
Finish
The finish is long, warm and velvety with sweet honey and vanilla. Becomes slightly dry with a touch of bitter orange peel and subtle oak spice.
With water
Fresher on the nose when a few drops of water are added. There's more vanilla  coming through, nicely mixed with ripe yellow fruit and increased oak spice. Very creamy and sticky sweet on the palate with vanilla and honeycomb followed by a delicate nuttiness, while the warming spiciness is significantly tamed. The finish is medium long with creamy notes of vanilla and honey, followed by notes of baked bread in the back.
Comments
A wonderful blended malt from the Highlands, which has an enticing fruit aroma, perfectly balanced with warming spices and sweet vanilla. A quarter of a century maturing in oak casks has produced a deep and complex variety of flavours, with the oak not pushing itself to the fore at all. This limited edition is a perfect fit between Timorous Beastie 18yo and 40yo.
I thank Douglas Laing for the image!