ABV
56.8%
Region
Isle of Islay
Bottling
whic (Whiskycircle)
 
Cask type

Ex-Bourbon Cask (#319400, 338 btl.)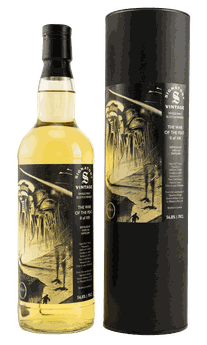 Nose
There's immediately smoke on the nose nicely mixed with white pepper and yellow fruits - pears and lemons. Then peat is coming through with notes of ash, gauze bandage and sweet notes of barley in the back. The alcohol is already well integrated and not pungent at all.
Palate
Sweet at first on the palate with barley sugar and vanilla, turning into a warming mix of pepper, chili and allspice. Then peaty notes arrive, mixed with ash and wood smoke. The spiciness increases with a second sip.
Finish
The finish is long with ginger spice, malted barley and cold smoke. Becomes drier towards the end with ash and allspice.
With water
Fresher and more fruity on the nose when a few drops of water are added. Lemons and barley nicely mingle with peat smoke, gauze bandage and ash in the back. Interestingly, the alcohol is clearly noticeable. Sweet with vanilla and barley sugar, accompanied by black pepper and oak spice, followed by peat smoke, cold ash and soot. Less warming, becomes sweeter towards the finish with malted barley. The finish shows good length with creamy notes of malted barley and even honey. Less dry with hints of smoke and peat and a touch of cold ash.
Comments
A young Caol Ila, which does not hide its origin. Strong and intense with fresh citrus fruits and sweet notes of malted barley, which contrast with a good portion of smoke and peat as well as warming spices. Interestingly, this young single malt becomes creamier and sweeter when adding some water, with the smoky and peaty notes being pushed into the background. I like that very much.
I thank whic (Whiskycircle) for the complimentary sample and the image!