ABV
59.3%
Region
Highlands
Bottling
whic (Whiskycircle)
 
Cask type

Refill Sherry Hogshead (#178, 305 btl.)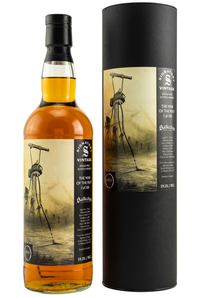 Nose
There's immediately bacon on the nose nicely mixed with smoke and a touch of phenols. Underneath there is a delicate sweetness with sherry, oranges, plums and caramel. Spicy notes of burnt oak and cloves in the back. Very appealing. The alcohol tickles slightly but pleasantly in the nose.
Palate
Full-bodied and intense on the palate. Sweet and creamy with sherry, red fruit and dates. Warming with a nice mix of oak spice, pepper, nutmeg and cloves, with sweet smoke in the background. Slightly dry towards the finish with a touch of ash.
Finish
The finish is long and warming with sweet notes of raisins and barley sugar, nicely mixed with a touch of peat smoke, and dry notes of oak and cloves on the tail.
With water
There's a bit more bacon coming through when a splash of water is added. A bit more fruit as well with a discreet smoky touch. Significantly less warming on the palate with a pleasant fruity sweetness wrapped in a whiff of peat smoke, followed by dry oak. The finish is medium long with subtle smoke but significantly more notes of dry oak and cloves.
Comments
A very delicate dram that Whic chose to start their thirteen-part series "The War of the Peat". Full, rich and intense with a beautiful balance of ripe fruit notes, spicy sweetness and peat smoke. It definitely makes you want more.
I thank whic (Whiskycircle) for the complimentary sample and the image!