ABV
54.2%
Region
Germany
Bottling
Distillery
 
Cask type

Amarone Red Wine Casks - 3 sizes: 50L, 225L, 325L (6,600 btl.)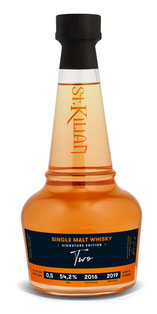 Nose
Fruity start on the nose with red berries - raspberry and strawberry in particular - followed by a sweet note of malted barley. Fresh with a touch of mint and white pepper in the back.
Palate
Sweet and creamy on the palate with vanilla and delicate raspberry sorbet. This is accompanied by a warming spicy mix of pepper and oak followed by a whiff of cocoa towards the finish.
Finish
The finish is long, warm and creamy with sticky fruit jam and caramel. Becomes slightly dry on the tail with oak spice, subtle tannins and a hint of bitter almonds.
With water
There's more red berries on the nose when a few drops of water are added. On the palate, the alcoholic warmth is tamed while more fruit and creamy vanilla are coming through. The finish shows medium length with sticky fruit and less bitter notes towards the end.
Comments
This second single malt bottling from St Kilian Distillers matured for at least three years exclusively in sweet Amarone red wine casks of different sizes, which clearly dominate the aroma and taste. Wonderful red fruit notes of raspberries and strawberries result with creamy vanilla and decent oak spice in a harmonious whole, which was bottled at 54.2% abv. Not too strong and therefore excellent to enjoy without water. This second bottling convinces despite its youthfulness with strong and harmonious aromas. St Kilian Distillers - certainly a distillery that should be on the radar screen in the future!
I thank St. Kilian Distillers for the complimentary sample and the photograph!