ABV
46.8%
Region
Highlands (Orkney, Arran, Jura) and Islay
Bottling
Douglas Laing
 
Cask type

-- (4,200 btl.)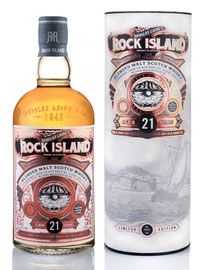 Nose
Coastal smoke, crisp peat and a whiff of salt on the nose, accompanied by sweet vanilla and malted barley. Some citric fruits come through mixed with subtle orange peel and ginger spice. Slightly medicinal notes and a touch of tar in the back.
Palate
Sweet vanilla and barley sugar mingle with lemon curd, peat and subtle smoke along with a warming spiciness of oak and pepper. Minerally with a maritime touch and a hint of ash towards the finish. Nicely mouthfilling.
Finish
The finish is medium long, warm and malty with tender peat smoke, coal ash and a touch of cloves on the tail.
With water
Quite fresh on the nose when a few drops of water are added. Sea air with vanilla and lemons, mixed with subtle peat smoke in the back. Less sweet. The delicate vanilla sweetness is still present on the palate, while the warmth is significantly tamed. Subtle notes of oak, ginger, nutmeg and cloves linger with hints of peat smoke towards the finish. The finish shows medium length with dry oak, cloves and gentle peat smoke.
Comments
A multi-layered, rich and lively blended malt embracing the character of Orkney, Arran, Jura and Islay. Deliciously maritime, sweet and spicy with a fruity and smoky core of lemon and peat. The 21 years give this dram depth and balance, combined with a powerful kick from Islay.
I thank Douglas Laing for the complimentary sample and the photograph!