ABV
46%
Region
Highlands (Orkney, Arran, Jura) and Islay
Bottling
Douglas Laing
 
Cask type

--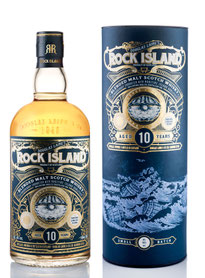 Nose
Bursting with creamy vanilla, accompanied by sweet and fruity notes of white peaches and some lemon peel. Soft wood smoke with coastal flavours and a whiff of sea breeze in the back. Very appealing!
Palate
Sweet start on the palate, too, again with lots of vanilla, a touch of honey and lingering apricots. This is complemented by gentle wood smoke, warming spices - ginger and white pepper. Sweet barley sugar lingers with notes of heather towards the finish.
Finish
Medium-long, warm and lingering sweet with a bitter touch of lemon peel. Slightly drying with some peat becoming noticeable alongside gentle smoke. Nicely mouth-coating.
With water
When adding a few drops of water, smoke becomes more dominant on the nose, along wth creamy vanilla and lingering citric fruits. Slightly warming on the palate with a tamed sweetness and fruitiness, followed by pepper and a touch of oak, wrapped in gentle wood smoke. The finish shows medium length with a decreased sweetness, but more dry notes of oak and a touch of peat smoke.
Comments
A well put together, nicely balanced blended malt with an enticing sweet nose, fruity and spicy palate, as well as lingering finish. All this is accompanied by gentle wood smoke and fine coastal aromas. A convincing new entry into Douglas Laing's renamed Rock Island blended malt range with an age statement.
I thank Douglas Laing for the complimentary sample and the photograph!