ABV
60.2%
Region
Wales
Bottling
Distillery (German Selection by Schlumberger)
 
Cask type

Ex-Bourbon Barrel, Finish in a Bordeaux Grand Cru Cask (#GC1, 272 btl.)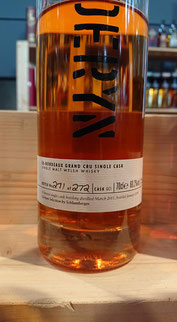 Nose
Fresh and fruity on the nose with red currants, slightly sour apples. apricots and peaches. Lingering notes of vanilla behind, nicely mixed with spiced oak, some tannins and a hint of white pepper. An enticing nose without any alcohol pungency!
Palate
Sweet and fruity on the palate with a load of red berries, sticky peach jam and creamy vanilla. Quite warming due to the high alcohol content, mixed with oak spice and some tannins underneath. Creamy towards the finish with raspberries and a touch of sour red currents.
Finish
The finish is long, warming and creamy with slightly bitter fruit compote, a touch of tannins, nutmeg and spiced oak on the tail.
With water
There is less fruit coming through when a splash of water is added. Still creamy with vanilla and some notes of ripe peaches. The sweetness on the palate is a bit tamed with less red berries. Some notes of vanilla mingle with oak spice and tannins towards the finish. The slightly warming finish shows medium length with subtle red berries, dry oak and tannins.
Comments
A wonderfully fruity, creamy and sweet single malt with a pleasant spiciness and depth. Despite the young age of almost 8 years already multi-layered, smooth and round. The alcohol is very well integrated and by no means disturbing or even pungent. Despite the 60% abv, this dram is very well enjoyable without adding any water. Well done!
I thank Schlumberger Vertriebsgesellschaft mbH & Co. KG for the complimentary sample and the photograph!