ABV
59.9%
Region
Wales
Bottling
Distillery (German Selection by Schlumberger)
 
Cask type

Ex-Bourbon Barrel, Finish in a 30yo Cockburn Tawny Cask (#PT316, 287 btl.)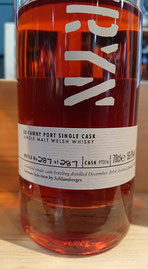 Nose
There is immediately red fruit on the nose with cherries, strawberries and red currants. Some spices with oak and cinnamon arrive, followed by creamy notes of vanilla and milk chocolate in the back. The high alcohol content isn't pungent at all!
Palate
Fruity on the palate, again with cherries and strawberries. Now the alcohol is fairly noticeable. Quite intense and warming with cinnamon, spiced oak and a touch of white pepper. After the warmth fades, sticky notes of red fruit compote linger towards the finish.
Finish
The finish is long, warming and creamy with fruit compote, notes of grape seeds and a whiff of dry oak on the tail.
With water
Fresh, vibrant and still very fruity on the nose with a decent splash of water. Slightly more vanilla's coming through as well. Less warming but still bold and intense on the palate with a tamed fruitiness and more notes of dry oak coming to the fore. The finish is a bit shorter with fruit compote and spiced oak.
Comments
A sweet, creamy and pleasantly spicy single malt from Wales with a fine oak undertone. The port finish has provided wonderful red fruit aromas. Despite the young age of 4 years already very aromatic, without any metallic and/or yeasty nuances. Despite the high alcohol content, this dram is pleasantly enjoyable neat.
I thank Schlumberger Vertriebsgesellschaft mbH & Co. KG for the complimentary sample and the photograph!