ABV
48%
Region
Speyside
Bottling
Douglas Laing (exclusive to Germany)
 
Cask type

-- (600 btl.)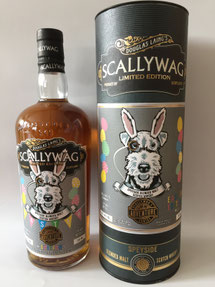 Nose
Fruity on the nose with yellow and red fruits, followed by raisins and vanilla. Sherry's coming through with ginger spice and a whiff of dark chocolate in the back.
Palate
Sweet and creamy on the palate with custard and yellow fruits - peaches and apricots in particular. Then juicy oranges arrive, mixed with raisins and a warming spiciness of white pepper and ginger, complemented by a touch of dark chocolate towards the finish.
Finish
The finish shows medium length with a warming mix of sweet fruits, dark berries and spices, followed by lingering notes of dark chocolate on the tail.
With water
Water brings out more fruits on the nose with oranges, apricots and peaches. Very clean and fresh. Sweet, creamy and more spice on the palate with ginger, pepper and dry oak while still fruity on the midpalate. The finish is medium long with pleasant notes of dark chocolate and dry oak.
Comments
A rich Speyside Blended Malt from Douglas Laing with a clear sherry cask influence. Sweet, fruity and creamy with a nice balance of oak and ginger spices. Complex both on the nose and palate, underlined with beautiful notes of dark chocolate. Bottled at 48% abv, there is no need to add water.