ABV
45%
Region
Germany
Bottling
Distillery
 
Cask type

ex-Bourbon (37%), ex-PX Sherry (18%), ex-Martinique Rhum (37%), ex-Bourbon Quarter (3%) and Chestnut (5%) Casks (20,000 btl.)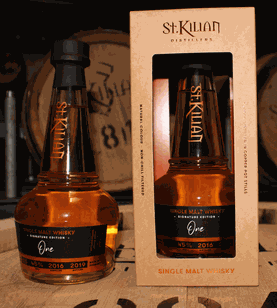 Nose
There's immediately fruit on the nose with pineapples, peaches and yellow ripe apples, accompanied by creamy vanilla and barley sugar. Hints of marzipan and subtle notes of lemonade arrive, followed by a tender spiciness of white pepper and oak in the back. Very appealing!
Palate
Smooth and nicely sweet with fruity notes of pineapples, peaches and apricots. This sweetness is complemented by a slightly peppery note and oak spice. Creamy vanilla and a whiff of malted barley linger towards the finish.
Finish
The finish is medium long, warm and slightly dry with oak spice, subtle marzipan and a hint of green walnuts.
With water
There's more tropical fruit coming through, especially pears, when a few drops of water are added, with oak spice also coming to the fore. Still sweet and fruity on the palate accompanied by prickling oak spice and black pepper. The finish shows medium length with a creamy fruitiness and subtle dry oak.
Comments
The Spirit of St. Kilian has arrived as whisky - with a clear bang! This first single malt from the German distillery St. Kilian is a sweet dram with a wonderful mixture of tropical fruits, a malty undertone and a discreet and pleasant spiciness. Made from whiskies matured in five different casks including chestnut(!), this single malt already shows a nice balance of aromas - a great balance of sweetness, fruit and oak spice - and underlines the fruity distillery character. At this young age, the Signature Edition One already demonstrates the enormous potential of this largest German whisky distillery. Very well done folks!
I thank St. Kilian Distillers for the complimentary sample!