ABV
58.4%
Region
Highlands
Bottling
Signatory (bottled for Flickenschild & Whiskyhort)
 
Cask type

1st-Fill Madeira Hogshead (#205, 320 btl.)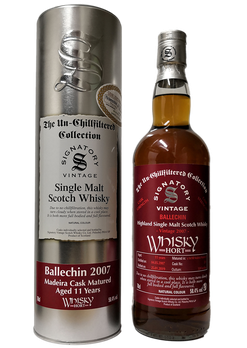 Nose
There's immediately bonfire smoke on the nose accompanied by a fruity sweetness of peaches and apricots. Vanilla's coming through, mixed with smoked ham and a slightly herbal note. The alcohol isn't pungent at all.
Palate
Bold and intense on the palate. Now the high alcohol content becomes noticeable with a significant peppery note. Then sweet with fruits and vanilla while the warming spiciness of pepper, alcohol and smoke is becoming dominant here. After the warmth fades, creamy notes of sweet apricots, peaches and grapes linger towards the finish.
Finish
The finish is long, warm and creamy sweet with apricots jam, followed by slightly bitter grape seeds and a whiff of dry smoke.
With water
Becomes a bit fresher on the nose when a splash of water is added. The fruitiness is tamed a bit while more bonfire smoke comes to the fore. Still intense on the palate. The warmth, however, fades quickly leading creamy and sticky sweet notes of apricots and peaches to the fore. The finish is medium long with more fruity sweetness and a bit of smoke on the tail.
Comments
A strong Highlander with an alcoholic bite and a clearly peppery spiciness on the palate. This is, however, very nicely softened by a wonderfully fruity sweetness, caused by the creamy and marmalade notes, which the first-fill Madeira hogshead delivered. A slightly smoky, harmonious single malt which can tolerate some water.
I thank Juergen Schneider from
Whiskyhort
for the complimentary sample and the image!