ABV
57.5%
Region
Highlands
Bottling
Malts of Scotland (selected and bottled for Whiskyhort & Flickenschild)
 
Cask type

Amarone Red Wine Cask Finish (#MOS19003, 639 btl.)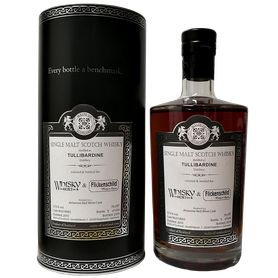 Nose
Fruity start on the nose with red berries, cherries and plum compote. This is accompanied by a delicate spicy note of cinnamon, pepper and oak, followed by a touch of dark chocolate and mint in the back. The alcohol is present but not pungent at all.
Palate
Fairly sweet and fruity on the palate with cherries, raspberries and black currants. Then the high alcohol content becomes noticeable with a warming mix of spices - pepper, cinnamon and nutmeg. This is complemented with a nice creamy touch of plums and dark chocolate towards the finish. Pleasantly mouthfilling.
Finish
The finish is long and slightly warming with a creamy fruitiness along with a touch of walnuts, slightly bitter notes of grape seeds and dry oak.
With water
The fruitiness on the nose is slightly tamed when a splash of water is added while more spicy notes - pepper in particular - are coming through. Bold and intense on the palate with cracked black pepper and a creamy fruitiness of raspberrries and plum jam. Remains sweet towards the finish. The finish is a bit shorter but still sweet and creamy with sticky fruit followed by dry notes of oak and grape seeds.
Comments
This tasty Tullibardine matured in an Amarone red wine cask and thereby achieved an intensive red colour and distinct fruit aromas of red berries, cherries and plums. The spicy notes of oak and pepper keep the whole in a very nice balance and give this young single malt body and depth. The high alcohol content is already very well integrated. A worthy bottling for the 4th anniversary of the Whiskyhort.
I thank Juergen Schneider from
Whiskyhort
for the complimentary sample and the image!