ABV
62,5%
Region
Speyside
Bottling
The Barreliers
 
Cask type

1st-Fill Bourbon Barrel (#800936, 234 btl.)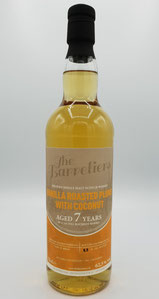 Nose
The nose starts off with lots of vanilla, followed by delicious plum jam and a touch of toffee. Lingering citric notes arrive, nicely mixed with a hint of oak spice in the back. The alcohol is noticeable but not pungent at all.
Palate
Bold and intense on the palate due to the high alcohol content. Then sweet vanilla, nicely mixed with some oranges, lemons and a whiff of coconut flavour. Fairly spicy on the mid palate with pepper, oak and ginger. Notes of creamy vanilla return towards the finish.
Finish
The finish is long, warm and creamy with vanilla and slightly bitter orange peel. Becomes drier on the tail with oak and a touch of black pepper.
With water
There's more oaky notes coming through on the nose when a splash of water is added. Still sweet with vanilla, followed by fresh notes of citrus in the back. Very sweet and fruity on the palate with vanilla and plum compote, accompanied with white pepper, oak spice and a hint of bitter oranges. Less warming. The finish is a bit shorter but still creamy with vanilla mixed with blood oranges. Becomes dry with oak, tannins and pepper.
Comments
This young Secret Speyside single malt is fairly strong as one can expect due to the high alcohol content. However, the first-fill Bourbon barrel provides a beautiful creamy vanilla sweetness, which complements nicely with the fruity notes of plums and  oranges. Together with a delicate spiciness of oak, pepper and ginger, this is a harmonious dram. When diluted, the alcoholic bites vanishes bringing more sweetness and fruitiness to the fore. A young, partly impetuous but already balanced whisky bursting with vanilla.
I thank The Barreliers for the complimentary sample and the photograph!