ABV
48%
Region
Highlands
Bottling
Distillery
 
Cask type

First-fill European Oak Oloroso Sherry Casks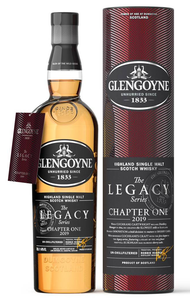 Nose
Fruity and sweet on the nose with ripe yellow pears and juicy sultanas, followed by sherry, creamy toffee and vanilla custard. Then a delicate spiciness arrives with cinnamon and subtle oak, accompanied with dark chocolate in the back.
Palate
Bold and thick on the palate with sweet notes of oranges, vanilla and toffee. Oaky spice is coming through along with cinnamon, ginger and a whiff of white pepper, followed by dark chocolate. The sherry casks add some nice nutty flavours, too.
Finish
Good length. Creamy, sweet with dried fruits and sticky toffee, followed by oak spice and fine nutty flavours on the tail.
With water
Fruity and fresh on the nose with a few drops of water, with additional oak spice. Quite spicy on the palate with pepper, prickling oak, cinnamon and ginger, complemented with dried fruits, vanilla and creamy toffee. The finish shows good length with dark chocolate, hazelnuts and dried fruits.
Comments
A fruity, creamy and nicely spicy single malt from Glengoyne. Although it was matured in first-fill Oloroso sherry casks, the distillery character of Glengoyne is still very well present. The beautiful pear aromas unite with the sweet vanilla custard and the spiciness from the European oak to form a harmonious and balanced composition, which is very well illustrated by the 48% abv and the lack of chill-filtration.
I thank BORCO for the complimentary sample and the photograph!