ABV
58.4%
Region
Highlands
Bottling
Douglas Laing
 
Cask type

Sherry Hogshead (# DL12824, 303 btl.)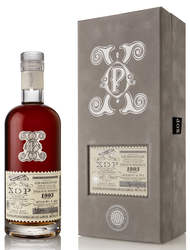 Nose
The nose starts off with old sherry, raisins, brown sugar and juicy blood oranges, before caramelised ginger, cinnamon and nutmeg arrive. Notes of dark chocolate nicely linger with leather and spiced oak in the back. Rich and very appealing!
Palate
Full-bodied, rich and intense on the palate with sherry, sweet ripe plums, raisins, luscious oranges and Demerara sugar. Then warming spicy flavours of nutmeg, ginger, oak and white pepper arrive, followed by slightly dry notes of dark chocolate and cocoa. Nicely mouth-coating!
Finish
The finish is long and pleasantly warm, becoming drier on the tail with espresso notes, bitter orange peel, walnuts and oak spice.
With water
A few drops of water bring more leathery notes to the fore, mixed with tobacco leaves and espresso notes while the sherry sweetness and fruity flavours remain stable. Still bold and rich on the palate, again with more leather, prickling oak spice, cinnamon and nutmeg. Less fruity with a tamed sherry sweetness. The finish is still long and warming. Becomes significantly drier with cocoa,  espresso notes, tobacco leaves, nutmeg and walnuts.
Comments
A rich, intense and full-bodied single malt with all the sherry-derived flavours the dark colour already promises. Aromas of ripe dark dried fruits, together with winter spices and notes of tobacco and leather, create a harmonious and full-bodied taste experience. An excellent single cask bottling on the occasion of the 70th anniversary of Douglas Laing. As the high alcohol content is perfectly integrated, this 25-year-old Glen Garioch can be enjoyed without any water - ideally sitting in a leather armchair in front of a crackling open fire.
I thank Douglas Laing for the photograph!