ABV
48%
Region
Highlands (Isle of Jura)
Bottling
Douglas Laing
 
Cask type

Refill Butt (# DL12576, 383 btl.)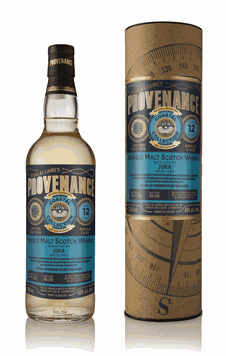 Nose
Fresh start on the nose with coastal aroma followed by lingering citric fruits, honey and vanilla. Apricots are coming through, nicely mingling with a touch of caramel and a whiff of spiciness in the back - pepper in particular.
Palate
Sweet with a creamy texture on the palate. Delicate fruitiness of apricots and redcurrant, accompanied by brown sugar, caramel and vanilla. Slightly warming with a hint of oaky spiciness and black pepper.
Finish
The finish shows medium length with creamy vanilla, citrus and slightly dry oak.
With water
There's more citric fruits coming through when a few drops of water are added while the sweetness and spicy flavours are a bit tamed. Still sweet on the palate with vanilla and brown sugar followed by a hint of oak spice. The finish is medium long to short, slightly warming, less sweet but more drying with oak.
Comments
Douglas Laing's 2nd Provenance Coastal Collection is a fresh whisky from the island of Jura, which has absorbed only a few sherry aromas from the refill butt, but has wonderful citrus and apricot flavours that are accompanied by a pleasant spiciness. Nicely balanced and with 48% abv it is very drinkable. An ideal companion for a walk on the beach of Jura. 
I thank Douglas Laing & Co. for the complimentary sample and the image!