ABV
55.5%
Region
Islay
Bottling
Distillery
 
Cask type

Palo Cortado Sherry Finish (624 btl.)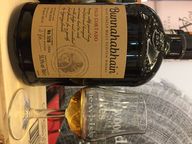 Nose
Fruity on the nose with a decent nuttiness of green walnuts. Creamy with vanilla, apricots and sherry sweetness, followed by a wee maritime note. The alcohol is present but not pungent.
Palate
Strong and rich on the palate with sweet and fruity notes, followed by a bitter touch of green walnuts. Slightly maritime with a whiff of smoke in the back. Warming spiciness arrives with oak, nutmeg, ginger and pepper. Warm and mouth-filling.
Finish
The finish is medium long and very warming with a delicate nuttiness in the back.
With water
Less sweet on the nose when a splash of water is added. Walnuts, mixed with smoke and sherry in the back. Also less sweet on the palate while fruity notes of peaches and citrus arrive. Dry oak with a tamed spiciness. The finish shows medium length with prickling spices and dry oak.
Comments
This 13-year-old Bunnahabhain shows a beautiful selection of fruity notes paired with a delicate sherry sweetness, light smokiness, warming spices and subtle coastal aromas. A rich, bold and full-bodied single malt that goes well with the cold season.