ABV
48%
Region
All of Scotland's whisky producing regions
Bottling
Douglas Laing (70th Anniversary Bottling)
 
Cask type

-- (5,000 btl.)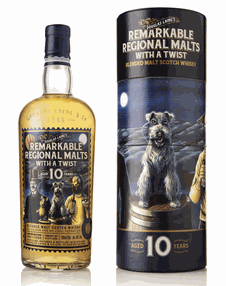 Nose
Sweet start with malted barley, vanilla and honeycomb, mixed with burnt toffee and fruity notes of peaches. Behind that fine smoke arrives, nicely mixed with seaweed and a discreet maritime note.
Palate
Fairly strong on the palate. Pleasantly sweet at first with crisp barley sugar, vanilla and some citric fruit. Then nicely warming with spiced oak, pepper, nutmeg and a whiff of peat. This is all wrapped in fine wood smoke. Becomes spicier with a second sip.
Finish
The finish shows medium length with warming spices, dry oak and a touch of wood smoke.
With water
Fresher on the nose when adding a few drops of water, with lingering sweet vanilla in the back. The delicate fruity tones and the spiciness are tamed. Still bold on the palate with a heavy load of spices - pepper in particular. Some fruits of peaches behind, mixed with sweet vanilla, crisp barley sugar and a whiff of smoke. The finish is shorter and only slightly warming with dry oak on the tail.
Comments
A very tasty dram! This bottling encompasses single malts of all five different Scottish whisky regions. The result is a strong blended malt with sweet vanilla, fruity notes and a good load of warming spices - well balanced and wrapped in fine wood smoke. To be enjoyed especially well after an autumn walk in front of an open fire. No boredom at all, especially with the cool packaging.
I thank Douglas Laing & Co. for the complimentary sample and the image!