ABV
43%
Region
Islay
Bottling
Gordon & MacPhail
 
Cask type

Sherry Cask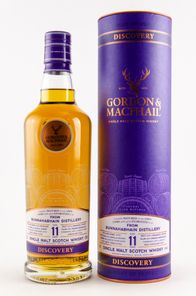 Nose
Sherry aromas nicely mingle with notes of dried fruits, oranges and peaches. Sweet vanilla with autumnal spices, burnt treacle and a hint of peat in the back.
Palate
Starts sweet and fruity on the palate with toffee, dried fruits, peaches and plums. This is accompanied by a significantly warming spiciness of oak, black pepper, cloves and allspice. Slight waves of peat smoke and a whiff of cinnamon towards the finish.
Finish
The finish is medium to long with creamy fruit, warming allspice and subtle dry oak on the tail.
With water
Water brings more vanilla and fruitiness to the fore while the spicy flavours are tamed. Still sweet and creamy on the palate with dried fruits, vanilla and lots of peaches. Less warming and less spicy with a delicate nuttiness lingering towards the finish. The finish is medium long, sticky sweet and subtle dry with walnuts and a whiff of peat smoke on the tail.
Comments
A nice sherried single malt for the current autumnal season. Solid with layers of complexity. The influence of the sherry cask isn't overpowering the whisky at all, leaving enough space for the delicate dried fruits and warming spices to come through. Pleasantly quaffable!
I thank Kirsch Whisky - The House of Whiskies for the complimentary sample and the image!