Tasting Notes
ABV
52.9%
Region
Highlands
Bottling
whic (Whiskycircle)
 
Cask type

Sherry Butt (#1510, 472 btl.)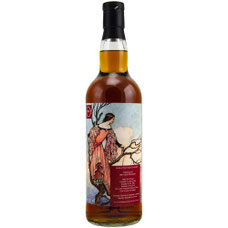 Nose
There's immediately sherry on the nose, mixed with rum-soaked dark fruits. Then more and more fruitiness with red berries - especially red currants - comes through. Fruity and sour with creamy vanilla in the back. Over time, notes of leather, tobacco and a hint of walnut, typical of old sherry cask matured whisky, arrive. The alcohol tickles slightly but pleasantly in the nose.
Palate
Full-bodied and voluminous on the palate. Rich with sherry, fruity red berries and a pleasant fruit acid. Clearly warm due to the alcohol, but also due to white pepper and some oak. Becomes velvety with creamy vanilla, red fruit jelly and sticky fruit jam.
Finish
The finish is beautifully long with creamy red fruit, slightly dry oak, bitter dark chocolate and fine notes of tobacco, surrounded by light fruit acid.
With water
Lots of red fruits on the nose when a few drops of water are added. Creamy vanilla, ripe banana, fruit acid and a whiff of tobacco in the back. Vibrant on the palate. Prickling with red fruits and a fairly spicy kick of black pepper, oak and nutmeg. Red berries linger towards a dry finish. The finish is a bit shorter with creamy fruit jam, vanilla and dry notes of tobacco leaves and oak on the tail.
Comments
I was pleasantly surprised by this bottling. I would have expected dark fruit notes, chocolate, walnuts, solid oak and the like when maturing for 22 years in a sherry butt. But this Ben Nevis impresses with its extreme fruitiness of red berries and refreshing fruit acid which interact fairly nicely with warming spices and some tobacco notes. It looks very fresh and yet it brings the elegance and complexity of an old whisky. Chapeau to the Whic team. Here they have proved a lucky hand in the selection of casks.
I thank Leonie and Arne from whic (Whiskycircle) for the complimentary sample and the image!