Tasting Notes
ABV
46%
Region
Highlands
Bottling
Distillery (Spirit of Oak Collection)

Cask type

European and American Oak, Finished in Pedro Ximénez Sherry Casks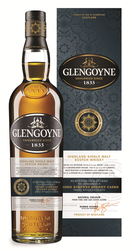 Nose
Rich notes of sherry and brown sugar on the nose, followed by dark toffee, caramel and dried fruit. Over time, fruity notes of ripe yellow apple emerge, accompanied by apricot and mild citrus fruit.
Palate
The palate is immediately sweet with caramelised sugar, honey and a creamy mix of apricots, ripe apples, figs and sultanas. Then a pleasant warmth and spiciness develops with white pepper, nutmeg, ginger and a hint of oak. Moderate at first, but the ginger spiciness increases significantly with the second sip. Overall very rich and full-bodied.
Finish
The finish is medium long, creamy sweet and warm with spicy notes of pepper, ginger and dry oak. Apricot and walnut alternate towards the end.
With Water
On the nose, a few drops of water release a lot of vanilla, paired with light fruity notes - above all apricot - and a whiff of oak. The sherry is pushed a little into the background. Still sweet on the palate with lots of fruit and some vanilla. The warming spices are noticeably tamed. The finish is significantly shorter, also less warming with creamy apricot jam and a hint of coffee notes.
Comments
This single malt focuses on a wonderful fruity sweetness, paired with notes of vanilla and caramel. This rich and intense aroma competes with a warming spiciness from the European oak casks, which together result in a well-balanced and harmonious dram. The spiciness can be tamed with a few drops of water, but without losing this sweet and intoxicating fruitiness. Of the three tested Glengoyne GTR bottlings, the best for me by far.
I thank Ian Macleod Distillers Ltd for the sample and the photograph!