Tasting Notes
ABV
54.3%
Region
Islay
Bottling
Distillery
 
Cask type

2nd Fill Sherry Casks, additional 3 years PX Finish (6,768 btl.)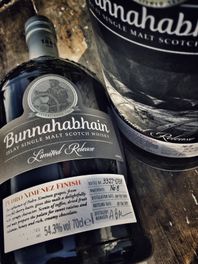 Nose
The nose starts off with pleasant aromas of very old sherry, nicely mixed with the typical flavours of raisins, dried fruits, dates and toffee. Slightly notes of sea salt emerge, followed by oak spice, anise, dark chocolate and salted caramel in the back.
Palate
Very sweet on the palate with loads of sherry, brown sugar, and raisins. This is accompanied by a warming mix of spices - oak, anise and nutmeg. Once the warmth fades, pleasant dark chocolate and lingering notes of bitter walnuts arrive, before the sherry sweetness takes over again.
Finish
The finish is medium to long, sweet and creamy with sherry, toffee and walnuts. Slightly dry with cocoa and espresso on the tail.
With water
There's more oak spice coming through when a few drops of water are added while the delicate sherry sweetness is significantly tamed. Still sweet on the palate with only slightly warming spices and lingering bitter walnut flavours. The finish is noticeably shorter but still sweet, creamy and nutty.
Comments
A full-bodied, complex, sweet and for me very tasty Bunnahabhain. That is what makes this distillery so unique. Bunnahabhain spirit, whether peaty or not, matures excellently in former sherry casks producing a sweet, creamy, nutty and chocolaty whisky with a small but fine maritime influence. No disturbing sulphur aromas. A must for all sherry aficionados!