Tasting Notes
ABV
53.2%
Region
Islay
Bottling
Distillery
 
Cask type

Manzanilla Sherry Wood Finish (3,792 btl.)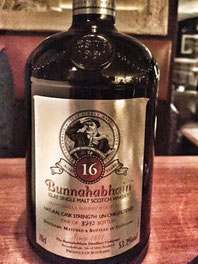 Nose
The nose starts off with sherry, dark fruits, raisins and malted barley. Behind that sweetness, earthy notes of damp moss arrive, nicely mixed with roasted flavours and dark chocolate. Fragrant, with some burnt rubber and a whiff of smoke in the background.
Palate
Bold and rich on the palate. Sweet, full of sherry and lingering raisins. Then slightly bitter with walnuts and a warming spicy mix of cinnamon, nutmeg, oak and white pepper. Hints of ginger and roasted malt towards the finish.
Finish
The finish is medium to long, creamy sweet, with a warming spicy touch of ginger and nutmeg.  Quite lingering, soothing on caramel and slightly bitter walnuts.
With water
There's less sherry flavours coming through when a few drops of water are added. Still sweet with demerara sugar and raisins, while the burnt rubber aroma is tamed completely. Sweet on the palate with spices and bitter flavours of fruit and walnuts. Less strong than neat with dry oak towards the finish. The finish is medium long, sweet and creamy with a slightly warming touch of spices and dry oak.
Comments
A pleasing single malt from Islay with a wonderful combination of sherry sweetness, warming spices and bitter walnut flavours. A typical Bunna. Water masks the sulfur-derived aromas on the nose without losing the delicious sweetness.
I thank Björn Lahmann from Whiskyplaza for the sample!