Tasting Notes
ABV
48.5%
Region
Speyside
Bottling
Private Finishing Project by Whisky-Connaisseur
Cask type

Single Bourbon Barrel, finished in a 2l Malaga Wine seasoned Oak Cask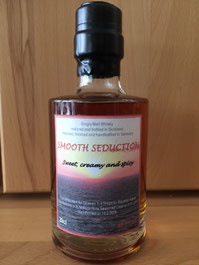 Nose
Delicious infusion of creamy and fruity notes of grapes, apricots, peaches and a whiff of quince. This is accompanied by sweet vanilla, caramel and subtle wine flavours. A touch of oak lingers with a hint of hazelnut in the back. Inebriant and very appealing.
Palate
That sweetness is evident early on the palate with grapes, apricot jam and caramel. This is immediately followed by a warming spiciness of oak, white pepper and a hint of nutmeg. Creamy mouthfeel. The warming spiciness noticeably increases with a second sip.
Finish
The finish is medium long and warm with sticky fruit jam and caramel. Slightly bitter notes of grape seeds along with oak and a touch of hazelnut on the tail.
With water
On the nose, a few drops of water bring more fruit to the fore with a delicate potpourri of apricots, peaches, quince and yellow plums. Honey and tender vanilla in the back. The sweet and creamy flavours are slightly enhanced on the palate while the warming spiciness is significantly tamed. The finish is a bit shorter with creamy vanilla, caramel, grapes and a whiff of delicate hazelnuts.
Comments
This first, own finishing experiment is really successful (of course it has to be). The three-month finish in an oak barrel previously seasoned with Malaga wine adds creamy fruit and caramel, while the spicy notes of oak and pepper offer a nice balance. The nose is extremely appealing and seductive. The spicy flavours are clearly tamed with water and more creamy fruit notes emerge.