Tasting Notes
ABV
56.4%
Region
Highlands
Bottling
Distillery (exclusively bottled for Der Whisky-Botschafter)
Cask type

Bourbon Hogshead (#2510, 274 btl.)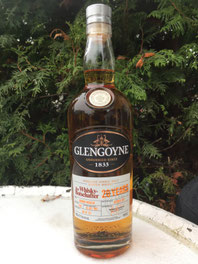 Nose
The nose starts off with creamy vanilla, toffee and subtle honey. This is accompanied by a fruity mix of apricots, peaches and yellow pears. Smooth and fresh with ginger spice and a whiff of oak in the back. The alcohol is well integrated.
Palate
Sweet at first on the palate with vanilla, caramel and fruits - mainly apricots and peaches. Then intensly warming with a delicate mix of anise, caramelised ginger, black pepper and a touch of oak spice. Rich and spicy while the warming spiciness increases with a second sip.
Finish
Medium to long finish. Creamy and fruity with gooseberry and hints of lemon. Then warming oak spice is showing up, becoming slightly dry on the tail.
With water
Fresher on the nose when a splash of water is added. Creamy vanilla and fresh lemon, followed by subtle oak spice in the back. Fairly spicy start on the palate before sweet vanilla and juicy apricots arrive. The warming spiciness is noticeably tamed. The finish shows medium length with creamy vanilla and a spicy, slightly dry finish.
Comments
This is a completely different Glengoyne than you are normally used to from the distillery. Not a sherry bomb, but a fruity, creamy-vanilla Bourbon hogshead bottling. Despite its high alcohol content, this malt has a soft texture. Yellow fruit notes are well balanced with rich, warming spices. This dram needs enough time in the glass to reach its full potential. Both with or without a few drops of water very enjoyable.