Tasting Notes
ABV
53.9%
Region
Speyside
Bottling
The Whisky Cask
Cask type

Sherry Hogshead (#100247)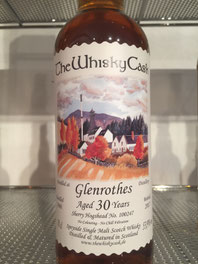 Nose
The nose starts off with delicate notes of dried fruits, plums, old sherry, Demerara sugar and juicy oranges. A classic sherry backbone with raisins, rum soaked cherries, cocoa and tobacco leaves. Hints of cigar box, oak spice and old leather chair in the back. A gorgeous nose!
Palate
Bold and intense on the palate with sweet sherry, barley sugar and fruity notes of plums, cherries and oranges. This is pleasantly mixed with a nice herbal note, subtle mint and a warming spiciness of white pepper, oak and a hint of chilli. Slightly dry towards the finish with cocoa, tobacco leaves and subtle leather.
Finish
The finish shows medium-length with creamy notes of sticky plums, oranges and some dry oak, walnuts and leather on the tail.
With water
A little bit fresher on the nose when a splash of water is added. There's more citric fruits coming through - oranges and lemons. Instead of raisins and plums red apples arrive, nicely mixed with sherry and hints of leather in the back. Sweet and very fruity on the palate with mainly apples and oranges. The spiciness is fairly tamed with only a hint of a warming pepperiness. The finish is shorter, creamy, sweet and fruity with a touch of dry oak on the tail.
Comments
A great, full-bodied and very well matured single malt. This Glenrothes captivates by its bold sherry influence with a nice balance of dark dried fruits, warming spices, dry oak and tobacco notes. It is very fine, elegant and dignified. Surprisingly, it becomes very lively, fresh, sweet and fruity with water - as if it has jumped out of its heavy, comfortable leather armchair. This malt is something for true connoisseurs.