Tasting Notes
ABV
49.8%
Region
Islay
Bottling
Douglas Laing
Cask type

Refill Hogshead (# DL11620, 216 btl.)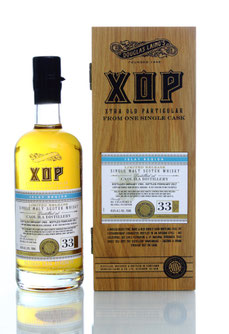 Nose
Peat smoke and smoked kippers on the nose, lovely mixed with vanilla, butterscotch and burnt short bread. Hints of citric fruit and burnt matches linger with subtle anise and oak in the back. Very appealing.
Palate
Bold and intense on the palate with a restrained sweetness of vanilla and a touch of white peaches. Then peat smoke and coal ash arrive accomplimented by a warming spicy mix of pepper and cloves. A kick of red berry fruit is showing up, followed by dry notes of oak towards the finish.
Finish
The finish is long, rich, oily and creamy with peat, smoke, tarry notes and dry oak on the tail.
With water
There's significantly less peat and smoke on the nose with a few drops of water. Besides a slightly tamed vanilla sweetness there's more citric fruits coming through. Still bold on the palate with peat, smoke, vanilla and lemons. Notes of burnt caramel and tamed pepperiness towards the finish. The finish shows medium length with slightly warming notes of peat, smoke and creamy caramel. Fairly dry notes of oak on the tail.
Comments
An old, very well-matured Caol Ila that cannot deny its origins. A beautiful balance of vanilla sweetness, light fruity notes and slightly burnt caramel, paired with a still strong smoky and peaty note and a tidy oak spice. In all these years of maturation, It has lost none of its power and intensity. A great dram that doesn't need any water. I like it.
I thank Douglas Laing for the complimentary sample and the photograph!