Tasting Notes
ABV
52.1%
Region
Islay
Bottling
Douglas Laing
Cask type

Oak Casks (3,000 btl.)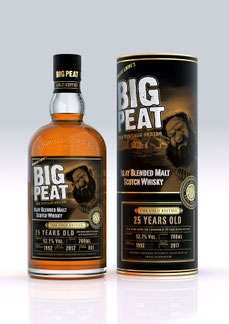 Nose
Smooth start on the nose with peat and smoke, charcoal and cold ash. Slightly minerally, nicely mixed with custard and burnt caramel. Sweet with smoked malted barley and a filigree but delicate fruitiness of yellow apples, white peaches and ripe bananas. It's not the big peat punch but very mild, smooth and mature. Very appealing!
Palate
Bold, intense and sweet on the palate with caramel, barley sugar, ripe yellow apples and a touch of citrus in the back. Then warming with cracked black pepper, nutmeg and oak. Slightly peaty with hints of seaweed, iodine and sea salt. This is all wrapped in gentle cold smoke. Appears very mature and balanced - a great mouthfeel.
Finish
The finish is long, warm, and slightly sweet with barley sugar and some yellow apples. Becomes slightly dry on the tail with a touch of oak, cloves and soft peat.
With water
A little fresher on the nose when water is added. There's more yellow fruit coming through with lemons and peaches. Slightly more peppery and oaky with a tamed peaty smokiness. Prickling and sweet on the palate with citric fruits - lemons and oranges - while peat and smoke is fairly tamed. Smoked custard and slightly dry oak towards the finish. The finish is fairly dry with oak, cloves, sea salt and hints of peat.
Comments
A beautifully matured, expressive blended malt from the Isle of Islay. Compared to the juvenile, impetuous Big Peat without an age statement, this limited edition captivates with its great balance of sweetness, fruitiness and warming spiciness, paired with discreet smoke and peat. Very soft and elegant. Not the most complex dram on this planet, but a real pleasing one for cosy hours in front of the fireplace.
I thank Douglas Laing for the sample and the photograph!