Tasting Notes
ABV
46%
Region
Speyside
Bottling
Langside Distillers

Cask type

Rum Barrel (138 btl.)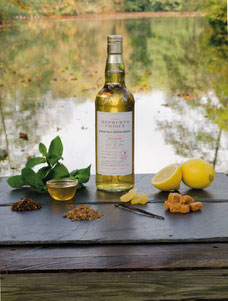 Nose
Fruity start on the nose with apricots and white peaches, followed by vanilla and a touch of honey. With time tropical notes of ripe banana develop, nicely mingling with tender zesty lime, toffee and gentle oak in the back. A very pleasant nose indeed.
Palate
Sweet on the palate with caramel and vanilla but very spicy at the same time, too. Warming with black pepper, oak spice and subtle cloves. Once the warmth fades, the fruitiness arrives with apricots, peaches and bananas, followed by a touch of minerality towards the finish.
Finish
The finish is medium long, clean and creamy. Subtle sweet with caramel and fruit jam. Gets a bit drier on the tail with fine oak and a whiff of mint.
With water
Quite fresh on the nose when a few drops of water are added. While notes of vanilla and yellow fruit remain stable, more oak is coming through. Quite spicy on the palate with loads of oak, cracked black pepper, cloves and a touch of mint. Very dry, too. Maybe there's some fruit behind this wall of spices but my taste budds don't recognize it. The finish shows good length. Very warming and significantly dry with oak, cloves and a hint of lemon on the tail.
Comments
Oh, I'm really surprised. This young Dailuaine has a gorgeous nose. The finish in a rum barrel provides pleasant tropical fruit aromas, which harmonize very well with the vanilla sweetness and warming spiciness. Surprisingly spicy on the palate, with the 46% abv feeling much stronger to me. Towards the warming end the delicate tropical fruit components return. Very spicy and dry with water. This young Dailuaine is definitely worth more than a try. An enjoyable example of this little seen Speyside distillery.
I thank myDrams for the sample and the photograph!