Tasting Notes
ABV
55.6%
Region
Highlands
Bottling
Douglas Laing
Cask type

Refill Hogshead (# DL11761, 263 btl.)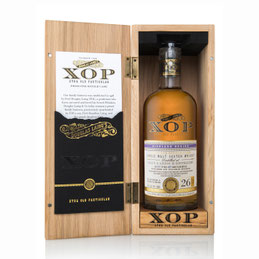 Nose
Some malted barley and soft hints of apricots on the nose. Then toffee arrrives, along with butter cookies, custard and caramel. Lingering lemon sorbet mixed with ripe banana and a touch of floral notes as well as tender tobacco leaves in the back.
Palate
Rich, intense and sweet on the palate with ripe fruit - banana and apricots in particular - and creamy vanilla. This is followed by some lemon notes before a warming spicy mix of pepper, cinnamon and tender oak takes over. Subtle dry notes of tobacco leaves towards the finish.
Finish
A long, warm and creamy, lemony finish with lingering caramel. Becomes slightly dry on the tail with oak, espresso and a whiff of floral notes.
With water
Vibrant, quite lively on the nose with a few drops of water. Fruity, malty, with vanilla, caramel and fairly more floral notes, mainly geranium in the back. Sweet, soft and pleasantly creamy vanilla on the palate along with sticky apricots jam. Warm and very spicy with oak, black pepper, cinnamon and a bit of nutmeg. The finish is shorter and less creamy, but becomes fairly dry on the tail with oak, espresso and a hint of tobacco.
Comments
A nicely balanced, complex and pleasantly mouth-coating Highlander. Beautiful interplay of vanilla sweetness, ripe fruit aromas, fresh lemon sorbet and strong, warming spices. Very harmonious to me. One can actually taste the excellent craftsmanship. A multi-faceted whisky, showing some lovely aged character. Please allow this beauty to breathe for some time so that it can develop its full aroma.
I thank Douglas Laing for the sample and the photograph!