Tasting Notes
ABV
53.5%
Region
Islay
Bottling
Douglas Laing
Cask type

Refill Hogshead (# DL11834, 239 btl.)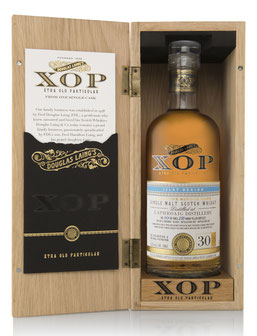 Nose
The nose starts off with a restrained maritime note of seaweed, medicinal gauze bandage and peat smoke - but not by far as extreme as with the younger Laphroaig bottlings. Behind that there is a delicate malty sweetness with lingering vanilla and pleasant fruity elements of apricots, peaches with a touch of lemon as well. This is followed by some spicy tones of oak, cloves and nutmeg in the back. A very appealing nose indeed.
Palate
Sweet and very oily start on the palate with barley sugar, peaches, apricots and vanilla. This is complemented by a powerful and warming mix of oak, nutmeg, black pepper and cloves, all wrapped in gentle medicinal flavours, iodine, seaweed and peat smoke. Waves of flavours - very harmonious and balanced.
Finish
The finish is pleasantly long, warm and slightly dry with creamy barley sugar, a touch of bitter oranges, slightly herbal notes and allspice. Maritime flavours on the tail with cold peat smoke overall.
With water
Very complex mix of flavours on the nose with a splash of water. Still fruity and sweet with apricots, cereals and vanilla, nicely mixed with oak, allspice and pepper. Harmonious elements of seaweed, salty air, iodine, peat and cold smoke in the back. A gorgeous nose. Rich, soft and creamy on the palate with apricots, vanilla and barley sugar. Only slightly warming with oak, white pepper, nutmeg and allspice. A hint of lemon and subtle peat smoke in the back. The finish is still long, creamy and a little dry with a touch of spiced oak, nutmeg and pepper. Creamy notes of vanilla, subtle sticky fruit and sea salt on the tail.
Comments
This is a big whisky. A pleasantly harmonious dram containing all the elements of a typical Laphroaig, but which has lost its pungent edges due to the three decades of maturation. Very well-balanced! I like it very much because the intensity of smoke, peat and medicinal notes is tamed with the creamy malty sweetness and lingering fruitiness coming to the fore. To me, after adding some water, it becomes a delightful, multi-layered, exceedingly pleasant single malt, which is best enjoyed in a cosy atmosphere in front of a fireplace.
I thank Douglas Laing for the sample and the photograph!