Tasting Notes
ABV
46.2%
Region
Campbeltown
Bottling
Douglas Laing
Cask type

--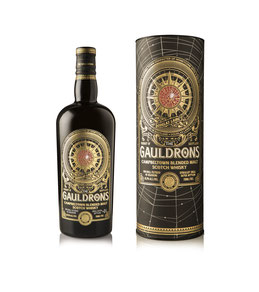 Nose
The nose starts off with a fresh maritime note, nicely mixed with custard and a touch of citrus. Fruity flavours of apricots and sweet barley sugar arrive, lingering with sea salt and a whiff of peat smoke in the back. Fresh, oily and rich.
Palate
Sweet and fruity on the palate with apricots, vanilla and malted barley. This is complemented by a fairly warming spiciness of cloves, nutmeg, oak and cracked black pepper. Spicy and slightly dry on the mid palate with a maritime touch of seaweed towards the finish.
Finish
A pleasantly long finish with a gentle warmth. Crisp oak and creamy barley sugar mingle with peppery spice and a touch of peat smoke on the tail.
With water
Lively, quite vibrant and fresh on the nose when a few drops of water are added. Sweet and fruity with barley sugar and vanilla. Significantly creamy on the palate with apricots, malted barley, vanilla and a tamed spiciness. Creamy, meaty and slightly warming with a whiff of peat smoke and maritime notes towards the finish. The finish shows good length with a creamy touch of sweet vanilla, barley sugar, milk chocolate and a touch of herbal notes in the back. Very pleasant.
Comments
A very tasty blended malt from Campbeltown. It reminds me of Springbank immediately. Slightly oily, paired with a maritime note, clean fruitiness and sweet malted barley. Nicely complex, with flavours in perfect balance. I liked it even better with a splash of water, as even more filigree sweet and fruity notes appeared behind the warming peppery spice.
I thank Douglas Laing for the sample and the photograph!